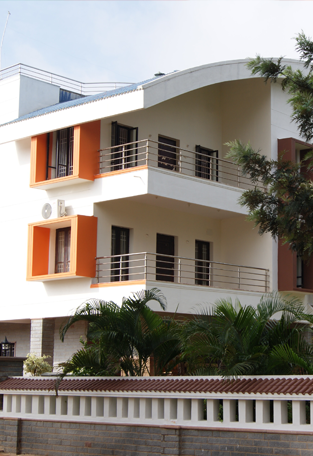 Sakthi De-addiction Rehabilitation Centre is a state-of-the-art rehabilitation centre spread over an area of 10000 sq ft located in the heart of Bangalore. We provide our patients with all luxury lifestyle amenities they have come to expect. Our accommodations mirror our philosophy that patients should not have to sacrifice or compromise their lifestyles during their treatment. From our large, fully appointed rooms to our gourmet food, reading area, fitness facilities-GYM , beautifully landscaped grounds, attached kitchen .

Well Furnished Rooms
Every attention to detail has been considered when designing and developing our sakthi luxury. Our well-appointed amenities appease even the most discriminating guests. Laundry service, flat screen televisions and maid services are just a few of the added luxurie. Private rooms and greenery views a treat to the eyes .

Security
We place the safety and privacy of our patient community above all else. Sakthi luxury offers round the clock security and allows patients to heal in a private, supportive and sensitive environment. We understand the critically important role that trust plays in the recovery process, and firmly believe that patients heal better when they are completely at ease in their treatment program. Our safe, private and comfortable living environment is simply an extension of our first-class, state-of-the-art approach to patient care.

Food
Our dietary consultant blends a unique combination of holistic nutrition and an understanding of the pleasures of fine hedonistic tastes. Quality food and healthy eating habits are an integral part of patient recovery. A healthy diet can help patients expedite their healing process and give with them the energy and vitality they need to sustain their recovery.

We offer a full staff of support personnel to make patients time in treatment as comfortable as possible. From the moment patients arrive at our facility, they are treated with dignity, respect and humanity. This level of service continues all through their treatment. We make every effort to accommodate all reasonable requests, and are here to keep patients happy, healthy and focused on recovery.